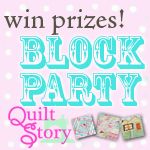 This is me trying to enter a block party. This is my first time trying something like this...so here goes. Click the link above to check out all the entries! I've made three blocks.
Traditional;
This is my traditional Dresden plate block.
Creative;
These are about 1 inch strips pieced together on the left with varying widths on the right. I see an upside down 'i'. Do you?
Modern;
For me this is modern because of the fabric. I think of it as looking out a window framed in old barn wood that has been painted many times, most recently turquoise, but all the layers a peeling back to show the years of love in the house... looking through to see the flowers of spring. Sounds corny, but it's what I see.